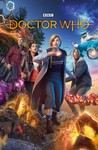 Starring:

Matt Lucas

,

Peter Capaldi

,

Pearl Mackie

Summary:

The final season for Peter Capaldi as the 12th Doctor and showrunner Steven Moffatt introduces new companion, Bill (Pearl Mackie).

Genre(s):

Drama

,

Action & Adventure

,

Science Fiction
Season 10 premiere date:

Apr 15, 2017

Episode Length:

45
It looks like this will be a fun season. The first episode is called "The Pilot," and in its way reintroduces us to the Doctor by seeing him through Bill's uninitiated eyes. ... Mackie, a relative unknown, proves instantly likable, and the character distinguishes itself from the other companions in the series.

It's a shame, really, that this particular arrangement of actors and characters won't last--the new season is running strong out of the gate.

If the first episode of the new season--which is Capaldi's last as the Doctor--is a bit of a greatest-hits rehash, that is easy to forgive. Mackie is an energetic and enjoyable addition to the show, and her down-to-Earth character brings a healthy scepticism to all things Doctor-related. Even more charming than Bill's curiosity and intelligence are her interactions with Nardole (Matt Lucas).
This season started in the best way, the new companion is exceptional, majestic interpretation of Capaldi, I hope they keep this pace for all

This season started in the best way, the new companion is exceptional, majestic interpretation of Capaldi, I hope they keep this pace for all episodes !! :)

…

Expand

The best series of Capaldi. Great finish for him and sad to see his run so underrated.

Pearl Mackie's casting is spot-on as the Doctor's new companion in this delightful, smart and well acted final season for the Twelfth doctor

Pearl Mackie's casting is spot-on as the Doctor's new companion in this delightful, smart and well acted final season for the Twelfth doctor and Steven Moffat.

…

Expand

As is the case with most seasons under Moffat's direction, the major episodes are amazing, but the ones in between are rather "meh". The

As is the case with most seasons under Moffat's direction, the major episodes are amazing, but the ones in between are rather "meh". The season-long mystery is actually dealt with in two parts, which brought a nice touch to the story. I found the second half much stronger than the first, dealing with issues such as change and doing good.

Bill is a slightly generic companion, but I found her a much better complement to Capaldi's Doctor than Clara ever was. Nardole brought just the right touch of humour and seriousness, and I'm dissappointed he is not staying longer. The chemistry between all three actors was great. I would actually say all four, since a recurring character is very well integrated into the story and adds a very needed... human touch.

Capaldi, as usual, is quite good, but, as usual, I found his Doctor too... serious? Angry, maybe? Everything seems so intense, the good-natured Doctor sometimes seems so far away.

Strangely enough, the Christmas special (Capaldi's last, so maybe it should be Series 11?), is amazing. It delves into Capaldi's Doctor's personality like never before, and now that he has reached his final episode, I finally understand him. This should have happened much sooner, I think, I might have liked this version of the Doctor more.

Looking forward to the new take.

…

Expand

Capaldi as always is lovely and Mackie is a huge change up for a companion. For a first episode, It was kind of lackluster. They followed

Capaldi as always is lovely and Mackie is a huge change up for a companion. For a first episode, It was kind of lackluster. They followed every typical trope for a new companion - Confronted by alien enemy, Discovering the Tardis and teasing the Daleks. I wish they did something a bit more original.

…

Expand

This review contains spoilers

, click expand to view

. DISCLAIMER: This is a Review for the entirety of Moffat's run!
Moffat is very good at doing one thing: setting up. The premise will be interesting and always grab my attention from the get go only for it to waste away when I realise something. I'm a third of the way through the episode and still don't understand the motivations of anyone. His Episodes spent too much time setting up the next 2 seasons by asking questions and whilst that is all well and good it's only until you've realised he's spent so much time answering them that the climax of all of this is a quick "the Doctor magicked everything away because he's the Doctor".
The point of the Doctor was that he may have a vast amount of knowledge in his head but he's still on the same page as us. He still has to go from A to B in order to find out C because he's a normal person. Now on the other hand Moffat has made him an alien genius who can solve anything by just being in the same room as the problem. He doesn't even have to know what it is!
I get that the Doctor is alien but he used to be relatable until he became exposition guy.
Let's swurf quickly and talk about the companions or as I like to call them F**KING MESSIAHS! I get you need the companions to be interesting but by making them the centre of the universe the Doctor is no longer the protagonist of his own show!
You see the problem I have here? Not only is the Doctor not relatable but now he's barely involved in anything he does because the companions can do anything now.
I'm gonna go through the companions now and tell you why I believe they're flawed:
Amy and Rory- All in all the best of the Moffat era UNTIL River Song. Look they have perfectly fine chemistry together along with the Doctor but the second I figured out who River Song's parents were I realised that the entire 2 seasons were seemingly fodder for a twist that only confuses things. Part of the mystery of River Song was who she was and Moffat seemingly mistook that for "who are her parents"... after that every episode became filled when she wasn't in it to move the plot forward drawing the attention away from everyone!
Clara- Oh My God... I can pick some redeemable things from Amy and Rory but Clara was annoying me to death! Her role belongs on CBBC or some other kids network because each time she appeared she kept talking in a tone that belonged to a 3 YEAR OLD! It didn't help that she acted like one as well causing entire episodes to be devoted to her thick skull! By far the most annoying arc was he falling out with the Doctor (we'll get onto that other one in a sec). In short the Doctor wanted Clara to grow up and see that the universe and travelling with him wasn't a holiday so he decided to leave the life of planet Earth in her hands in order to make her grow up! After she made her choice the Doctor revealed that it wouldn't have mattered either way and that she should accept that as an outcome. Instead she simply moaned about it as if (shock and horror) she was acting like a 3 year old!
Right let's talk about the Jesus arc... Clara, in an attempt to save the Doctor's life, jumps into his timestream and points the Doctor towards every major choice he's ever made. So I'm meant to believe he completely forgets her face after every encounter. Screw you Moffat and screw the TARDIS Diner you shoved her in.
Bill- Completely pointless! I forgot she was even there until she began talking and whilst she doesn't have as much to do as Clara did she was vaguely annoying when she appeared. I felt that the purpose of her character was to state she's a lesbian in every episode because Moffat wanted to be progressive. Gay character? Fine but move on with the goddam show! I have nothing against people of any sexual orientation. Hell if you're attracted to pineapples go for it I say! But for the love of god stop rubbing the fact in my face. Captain Jack was way better for this as it was never mentioned and was used naturally ( he found a man he liked and started a relationship with him). He didn't appear in every episode to say "I hate that people don't think I like men". Stating that constantly doesn't make the topic interesting but annoying.
Nardol- he was in it... yeah I have nothing else to add much like his character.
Conclusion- They all sucked each having their own glaring issues causing the show to drop for me. The episodes spent too much time on addressing them whining and not enough time on the story at hand.
I for one am glad Moffat is leaving as he clearly needs to look up what s human being is.
SHORT AND SIMPLE: Doctors were secondary to the companions who had 1 track personalities and existing within episodes more interested with set up than payoff.

…

Expand

DW's 10th season begins in fine form. Pearl Mackie's real, grounded performance stole the show for me, which is surprising given how little

DW's 10th season begins in fine form. Pearl Mackie's real, grounded performance stole the show for me, which is surprising given how little confidence she'd inspired in the promos. Matt Lucas balances the cast and tone with a lighter, comic element, and he helps catalyze the chemistry among the leads. Moffat's writing is clever, witty, and self-aware, while the plot is interesting and engaging, despite an occasional contrived part. As is Moffat's custom, the episode also plants seeds for the grander season-long arc, creating an aura of mystery around Bill, the Doctor's location, why he's there, what's located there, and how long he's been there.

On the negative side, while Capaldi continually improves and is no longer a joyless, dour Doctor, his "David Bowie-inspired" take grinds on me a bit. He's solid (or even good) at times, but I never want to see or hear that ridiculously misplaced guitar again, nor am I looking forward to the similarly ridiculous and misplaced sonic sunglasses. The episode also seemed to aim too high with its special effects, given the show's budget constraints. Although they weren't terrible, it's pretty clear they aspired to have been better than they ultimately were. It was forgivable, though, even if it momentarily took me out of the story. DW has long-conditioned its fans to have low expectations for effects, and this episode probably would've benefitted from a "less is more" approach. Last, as much as I enjoyed Mackie, her portrayal of same-sex attraction (while a perfectly fine idea) was unconvincing and fell flat.

…

Expand