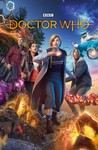 Starring:

Matt Smith (XI)

,

Karen Gillan

Summary:

The Doctor (Matt Smith) regenerates into his 11th self as the sci-fi series moves over to BBC America and meets the Doctor's new companion, Amy Pond (Karen Gillan).

Genre(s):

Drama

,

Action & Adventure

,

Science Fiction
Creator:

Terry Nation

Season 5 premiere date:

Apr 3, 2010

Episode Length:

45
It's obvious from the start that a familiar hand is at work in the storytelling, and 27-year-old Mr. Smith is as game as his predecessors in committing whole-hog to the crazy and delivering the drama.

Smith's work in "The Eleventh Hour" showed us exactly what Moffat saw in that audition...."Eleventh Hour" is also a great build-up for Karen Gillan's immensely likable Amy Pond, who has by far the most interesting, emotionally resonant backstory of the modern companions.

It's family-friendly and adult-pleasing, over-the-top and nightmarish, witty and deep all at the same time.

Though Moffat's written some scary stuff for The Doctor before this, Saturday's season premiere feels like a fresh start.

It takes no time at all for the new team to establish its authority; the new "Who" feels at once traditional and fresh, and completely right.

Truth is there's nothing off in either Smith's infectiously enthusiastic spin on the good Doctor or in newly installed executive producer Steven Moffat's confident storytelling.

Allowances must be made for a scene-setting episode introducing an entire new cast, and the show could easily get back in the groove next week. But perhaps, once the new Doctor gets the hang of the Tardis, he could go back to late 2009 and pick up Mr. Davies, just for a consult.
As a long time Dr. Who fan, I found this episode was brilliant.

Well, thank god. This show had pretty much become an embarrassment to all British TV under Russell T Davies, culminating in last year's

Well, thank god. This show had pretty much become an embarrassment to all British TV under Russell T Davies, culminating in last year's utterly horrendous specials. Thankfully Steven Moffat, as head writer and executive producer, has gotten rid of all the disgusting cloying emotionalism, manipulative nonsense, terrible plotting, pathetic direction and soap-opera tone that seemed to plague the RTD years. Perhaps once all the tasteless fanboys have gotten over the transition, Doctor Who can go back to being appropriate for ALL ages again, instead of just being targeted at moody teenagers?

But enough complaining! The fifth season of the revived series has been brilliant on all fronts.

The fresh Doctor, Matt Smith ditches Tennant's forced wackiness and forced seriousness, in favour of a much subtler and more subdued approach that deserves to make him a favourite among all age groups. He's NATURALLY strange - strange face, strange voice, strange physicality - and exudes a wholly natural, seamless eccentricity that we haven't really had since the days of Tom Baker (no disrespect to Davison, C. Baker, McCoy, McGann or Eccleston's lovely portrayals (yes, Colin and McGann were really good in their audio plays)). Instead of conforming to a range of very specific acting tropes, he's good at sliding around between them, conveying lots of mixed emotions simultaneously. Of course, it helps that the character of his Doctor in the scripts is massively improved as well - a return to the zany professor of Classic Who, as opposed to the moody graphic novel superhero Ten seemed to become.

As for the rest of the cast? Karen Gillan is fun to watch and plays up the amazing chemistry between Amy and the Doctor to a great extent, even in the face of her rather vague characterization. Arthur Darvill as her nice-guy boyfriend Rory is effortlessly hilarious and sympathetic - a perfect piece of casting there. And Alex Kingston infuses River Song with just the right balance of RAGE-inducing smugness ("Spoilers!") and femme-fatale charisma.

You can spot a noticeable rise in the standard of writing this season too. Funnily enough, in the RTD years, it wasn't RTD himself producing most of the embarassing rubbish. It was the rest of the writers (not including Moffat or Paul Cornell, of course). But this year, we had a pair of brilliant efforts from guest writers Simon Nye and Richard Curtis, a very fun companion-lite episode from the usually subpar Gareth Roberts, and a mostly tolerable story set in Venice from Toby Whithouse (who did the rather naff School Reunion one with Sarah Jane). Let's just try to forget Victory of the Daleks (which shouldn't be too hard as it was pretty damn forgettable to begin with. I don't mind the new Daleks though!).

Steven Moffat's new approach to Who storytelling has proved a success so far, doing away with RTD's "hint at the season finale" gimmick in favour of a slow-burning, intrigue-laden arc plot that seems to extend across multiple seasons. Unlike the writers of a certain popular American serial that concluded on a flat note this year, Moffat has a very clear knowledge of where he's taking this all (having possibly planned it as far back as 2008 when River made her first appearance) so we can be sure that the inevitable revelation surrounding her true connection to the Doctor, the nature of the Silence, and the ultimate significance of Amy, will be a jaw-dropping one.

Congratulation must also go to everyone else involved (save that trollop who laid Graham Norton over The Time of Angels). New cameras and new directors made this season utterly gorgeous, freeing it of that cheap look that it's had since 2005 (when the camera was like an abused child). The new TARDIS set is stunning and a hell of a lot nicer to look at than that ugly coral one. Murray Gold's score is much more reserved now and complements the action rather than competing with it (and the new theme tune is much more appropriate to the tone of the show, even if it still doesn't compare with Delia's). And to top it all off, even the new CGI opening titles, with that stormy time vortex, make nicer viewing than the slipstream of alien vomit we had before.

So, in summary, brilliant. Doctor Who is in safe hands, the safest it's been in a long time. And, phwoar - does that Christmas special look brilliant or what? A Who Xmas special that's actually about Xmas. Incredible. Moffat had better stay on for a very long time, and so had Smith.

…

Expand

Great Show I saw it online early and it's the best.

This season is so different from the previous four that it's practically a different show, which isn't necessarily bad. Matt Smith is a good

This season is so different from the previous four that it's practically a different show, which isn't necessarily bad. Matt Smith is a good Doctor, though it's hard to beat David Tennant. I liked most of the episodes in the first half of the season, but then lost some interest. Steven Moffat has taken the show in a new direction with this season. Though it's not as good as the previous four, it's still a great season. Collapse

…

Expand

A lot better than I actually thought he would be. A classic Dr Who story with a Gen Y / iGen kick to it. Matt Smith IS The Doctor! He could

A lot better than I actually thought he would be. A classic Dr Who story with a Gen Y / iGen kick to it. Matt Smith IS The Doctor! He could well end up in the elite company of fellow Doctors that truely made the role unique. Such as Baker, Eccleston, & Tennant. Amy Pond (Karen Gillian) could also end up being one of the best companions ever.

…

Expand

After a well needed regeneration, a new style of who unfolds. Steven Moffat is now in control of the show, and (at the time) this was a great

After a well needed regeneration, a new style of who unfolds. Steven Moffat is now in control of the show, and (at the time) this was a great choice, Steven Moffat pretty much wrote the best stories of each season up till now. Now its gone a little down hill, I can't really understand why this doesn't live up to the previous series, I mean its Steven Moffat! and not to mention the new doctor probably the best of the new series doctors and some of the classic's so far. Matt Smith is just fantastic, truly a new lease of live that has charm as this series adopts a fairytale style format of storytelling, its nice and suites it but this is where the series fails, its just quite weak and fails to live up to the previous series completely, but only as an integral series, individually the episodes are disguised and fool you to thinking this series is good . Because I tell you what this series doesn't know whether its coming or going, everything just feels out of order, lost and pretty basic, apart from some well written, episodes, directing and acting this series is completely missable if you so wish it and to be honest I wouldn't blame anyone who does. this series is just... basic... nothing interesting... big disappointment.

5.01: The Eleventh Hour
After that big rant, I'll contradict myself here by saying that this is one of the best episodes ever! its beautifully acted, the best after regeneration story to date. its beautifully written and beautifully directed basically a gem of an episode. and sadly nothing in this series will ever live up to it. 1st of 10 stories
5.02: The Beast Below
A casual watch nothing really that interesting, I have to say the themes and convention here are a little too early for the doctor to be experiencing especially when the audience is trying to figure out who there new doctor is. This story isn't amazing but compared to the rest its decent. 5th out of 10 stories
5.03: Victory of the Daleks
A dalek story that follows continuity, sadly the rest of the story doesn't live up to its promises, the new daleks are just..well just new daleks, and the whole story is just running around waiting to end 6 out of 10 stories
5.04: The Time of the Angels / 5.05: Flesh and Stone
Probably the most decent two parter of the series, its a pretty simple plot but its very well mad, and the return of the weeping angels was just great, compared to everything else this two parter was great. 2nd out of 10 stories.
5.06: The Vampires of Venice
Another casual flick, that uses the past as its primary cause for concern if the doctor succeeds or not, its just ok, using a comical outlook on things. 7 out of 10 stories
5.07: Amy's Choice
Ok so now we get something interesting, however far fetched this episode is, its still quite brilliant, some great imagination here, but is a little silly, but hey ho, this episode is still good. 3rd out of 10 stories
5.08: The Hungry Earth / 5.09: Cold Blood
A really bad execution towards the "new" Silurians, I'm deeply disappointed in this two parter, nearly two hours of dribble. 10 out of 10 stories
5.10: Vincent and the Doctor
Not a bad effort at making a more quirkier tale of Doctor Who, I actually quite liked the chemistry behind this one, I found it very different not to mention the fact that it really puts the spotlight on Vincent Van Gough. 4th out of 10 stories
5.11: The Lodger
The most comical episode so far this episode justifys why I say this series sis neither one type or the other its just juggling to many things. but this episode, this episode is just bad.
9th out of the stories
5.12: The Pandorica Opens / 5.13: The Big Bang
stupidly complicated that really throws out a good plot ark through the window, Steven Moffat has written a dreadfull two parter thats too complicated to care, the universe reboots....-.- ok whatever mate. 8 out of 10 stories

so too round up, this series wasn't good at all what saved it was some fabulous writing and excellent acting from Matt Smith and Karen Gillan as Amy pond who is just ok as a companion, I find it hard to like this series, so I'm going to shut up now, for what looked like it could be the best series ever turned out to be a complete flop.

…

Expand

I didn't like it from way back when and it is no different now. Campy at its dumbest. I have a few friends that liked it many years ago but

I didn't like it from way back when and it is no different now. Campy at its dumbest. I have a few friends that liked it many years ago but they have also lost interest.

…

Expand